12 initiatives (in 4 areas: data analysis, cross selling, digitalization of processes and additional client interactions) define the path to achieving strategic objectives.
#newPZU 2020 strategic initiatives
#1 Single CRM
Initiative: combine PZU's databases under a single CRM (customer relationship management) system / obtain a full client picture (360 degree view).
Purpose:
effectively customize the offer to client needs in terms of quality and costs alike;
align pricing to risk better;
accelerate the procurement process and streamline service processes by providing clients with tools to manage easily the products they have in the overall PZU Group;
create a full client picture (360 degree view) to cultivate partnership relations, standardize processes, grasp client needs better, underwrite risk in an optimum fashion, pursue more effective cross-sales efforts and manage the sales network more efficiently.
Metric: percentage of marketing consents and client contact details in PZU and PZU Życie.
Percentage of marketing consents in PZU
Percentage of marketing consents in PZU Życie
Execution:
a CRM platform was deployed in 2019 to help PZU agents and employees gain easy and rapid access to information pertaining to products and services. The full client view will make it possible to craft a new dimension of relations and refine cross selling in the PZU Group. Salespersons obtain up-to-date information concerning clients' active products, anniversaries, expiry dates and event histories. As a result, this will allow us to build strong client relations and augment loyalty and the level of satisfaction. Moreover, the available information can be used to match to a greater extent the product offer and preferences to clients' actual needs in terms of the frequency, timing and method of contact with PZU. The outcome is that salespersons gain a better familiarity with clients' current standing in the PZU Group. Measurable benefits ensuing from higher quality leads are expected in upcoming years, translating into better conversion and sales performance;
the comprehensive fraud identification system was developed. This system is based on advanced analytics and client behavioral models providing support in processes to enter into contracts and handle claims. The implemented analytical mechanisms support the identification of fraud in sales and claims handling processes - flagging, for instance, undue disbursements. Algorithms used to identify irregularities are improving from year to year, converting into greater effectiveness;
an important stage in the modernization of the data warehouse infrastructure has been finalized to enhance performance and ensure stability in data processing and reporting. This will streamline the management information process in the PZU Group and expand its analytical capacity.
#2 More effective tariff setting
Initiative: shorten the tariff-setting process, in particular on the motor insurance market.
Purpose:
optimize online prices;
align prices to risk better;
offer greater price elasticity;
maintain a highly competitive position;
improve sales results and profitability.
Better price-risk adjustment and price sensitivity (Tariff setting 3.0)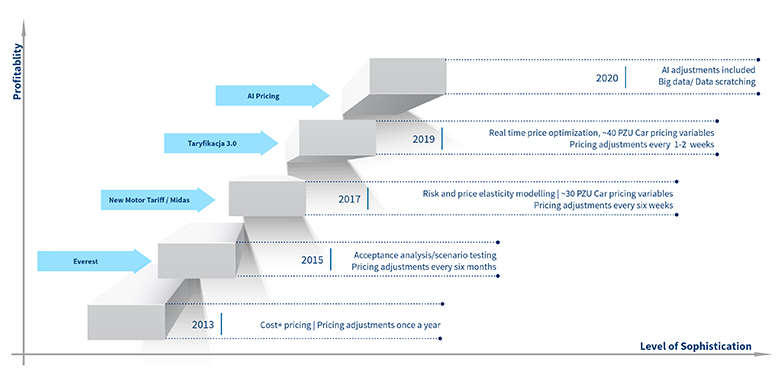 Metric: combined ratio (COR) (measure of profitability in non-life insurance).
Execution:
work on a project to optimize prices in real time was continued in 2019. This system is based on machine learning using data gleaned from the Everest product system. Solutions employing advanced analytics and learning algorithms for motor products were rolled out. Similar mechanisms are slated to be deployed in other insurance products (non-life and agricultural products) in subsequent phases. These solutions support dynamic pricing to satisfy risk and client requirements and enhance the competitiveness of the offer while simultaneously increasing profitability.
#3 Artificial intelligence
Initiative: tap into new technology solutions harnessing proprietary resources and collaborating with the startup community (insurtech, fintech, technology firms).
The PZU Group's aspiration is for the following business areas to benefit from these changes first: tariff-setting and risk management, sales, client retention and claims handling, as well as medical diagnostics.
Purpose:
support cross selling initiatives;
grow the client retention ratio in various lines of business;
analyze pictures and images in claims and benefits handling processes (e.g. comparison in real time of the picture of the claim and the cost estimate received);
smart solutions in medical diagnostics;
enhance efficacy in the detection of insurance fraud;
render risk management consulting services for companies;
launch the PZU Data Lab - center for the creation of innovations based on data and artificial intelligence;
cut expenses;
enhance quality in client service;
augment client loyalty;
build a competitive edge;
improve sales and profitability;
grow the value of the brand and the Company.
Metric: number of innovative solutions which at least 100 thousand clients of the PZU Group have used.
Number of innovative solutions
Execution:
work was continued on PZU GO, PZU's key project to save customers' lives. This is an innovative telematic solution to call for help automatically following a collision on the road. This solution is already available for mass sales;
AI in the claims handling process is a solution implemented in 2019 to harness artificial intelligence in handling motor claims. Automating the analysis of claims handling documentation (photos) supports employees in their day-to-day work, thereby shortening servicing time;
tests were also run on large data sets and analytical hypotheses were tested to improve several prediction models underpinning sales in PZU. They form the basis for advanced selection of clients and customizing a personal product offering.
#4 Cooperation with banks
Initiative: cooperate with the banking segment in the PZU Group.
Purpose:
sell insurance to the clients of Bank Pekao and Alior Bank;
bring new insurance clients from PZU to these banks;
save costs in the real estate administration and procurement system.
Metric: premium in the banking channel, cost cutting as a result of collaborating with banks, number of clients attracted to the Group's banks.
Amount of premium generated in collaboration with banks
Cost cutting as a result of collaborating with banks
Execution:
cooperation with banks was continued in 2019 ensuring the presence of PZU products and banking products in the PZU Group's key sales networks;
a new assurbanking business line was set up and the CASH platform was implemented to handle financial employee benefits. This platform was made available under a pilot to the PZU Group's employees in 2019, while it is scheduled to be made available to more employers in 2020. CASH gives employers the ability to roll out a new employee benefit: quick loans available to all with a low interest rate and a simple method of repayment. This deployed business concept may become an unrivalled solution on the Polish loan market.
#5 Simplifying the product offering
Initiative: create a straight-forward product offer in respect of how the products are structured and the wording used.
Purpose:
have universal salespersons sell simple products effectively;
increase simplicity and shorten the process for clients to buy products;
make the simple offer available through the web (10 widely distributed products).
Metric: number of products in general sales.
Execution:
work was continued in 2019 to make a number of product enhancements for clients. New products and functionalities were rolled out to support more rapid customization of the offer to meet client needs, for instance, POZ Ochrona and POZ Zdrowie, as well as a number of smaller enhancements, such as creating a health questionnaire on the enrollment form to underwrite insurance risk more precisely. A number of service-related improvements were also implemented, new and simpler documents to confirm the conclusion of a contract were drafted and product parametrization was adjusted. In the near future there are plans to streamline the process of managing negotiations between agents / sellers and the client.
Number of products in universal sales
#6 Converting the sales network into a general sales network
Initiative: modify PZU's own networks in the direction of becoming more universal in nature. This project applies to channels fully controlled by the PZU Group: branches, tied agents in life and non-life insurance and the corporate sales network.
Purpose:
approximately 5 thousand universal salespersons (i.e. 50% of the Group's proprietary network) by 2020;
distribution of at least 3 of the 5 lines of business (life insurance, non-life insurance, medical care, investment products, banking products) by general salespersons.
Metric: percentage of generalist salespersons in our proprietary networks.
Percentage of generalist salespersons in our proprietary networks
Execution:
the execution of the goals related to universalizing the sales network was continued, i.e. distributing PZU Życie products through the PZU Tied Agents network. These solutions have made it possible to extend the distribution of life products and drive up sales effectiveness.
#7 Development of sales in PZU Zdrowie
Initiative: build PZU Zdrowie's size and profitability. Build a competitive edge by tapping into technology and the high quality and accessibility of services.
Purpose:
develop new health insurance products and expand the "traditional" offering to include unique riders;
activate the sales network and tap into the full potential rooted in the PZU Group's client base;
offer a modern patient service process giving consideration to the best practices on the market, innovative technological and medical solutions and quality of service standards, including VIP care;
develop a network of proprietary centers through greenfield and M&A projects.
Metric: PZU Zdrowie's revenues (PLN million) and EBITDA (%).
PZU Zdrowie's revenue
PZU Zdrowie's EBITDA margin
Execution:
the development of mojePZU [myPZU] was continued in 2019. It is a self-service website of the PZU Group offering healthcare functionalities, enabling holders of health products to book appointments and check whether their package includes a given service;
PZU Zdrowie has launched a portal to handle occupational medicine, monitoring expiration dates of employees' medical examinations and making it possible to send someone for a test with a single click;
Virtual Clinic was implemented. It supports remote medical consultations and ordering prescription filling in a selected pharmacy. Electronic medical documentation in own centers was also deployed;
to build size PZU Zdrowie cultivated cooperation with partner centers and acquired new centers; it also built its own centers as greenfield operations. At the end of 2019 PZU Zdrowie's network had 2,200 partner centers in more than 500 cities in Poland and 130 proprietary branches.
#8 Development of sales and consolidation in PZU Investments
Initiative: design a uniform asset management structure in the PZU Group to utilize multi-channel distribution. Products are also supposed to be sold on international markets within the strategy's horizon up to 2020.
Purpose:
achieve cost synergies (one "factory" of investment products);
ratchet up sales by deploying new investment products based on indices or on what is known as "life cycle";
utilize the changes ensuing from the reform of the pension system - Employee Capital Schemes;
growth the net result on asset management.
Metric: third party assets under management (PLN billion), net result on asset management (PLN million).
Net result on third party asset management
Third party assets under management
Execution:
inPZU transaction service to sell mutual funds started to operate in October 2018. This service allowed the Group to build Poland's first offer of low-cost index funds and grow TFI PZU's revenue. Development work on the platform took place in 2019; it was integrated with the #myPZU platform and this led to onboarding new clients and growing assets under management;
the sales of a new product were launched – ECS (Employee Capital Schemes). In keeping with this program's underlying assumptions, the offer was sent to the corporate segment with 250+ employees. In 2020 sales will focus on the corporate segment with 50+ employees;
thanks to the cooperation with Goldman Sachs Asset Management initiated in 2019, in January 2020 it was possible to launch two new passive funds: inPZU Goldman Sachs ActiveBeta American Equity Large Cap Index and inPZU Goldman Sachs ActiveBeta Emerging Markets Equity Index. In addition, the Equity CEEplus inPZU subfund was launched. It was created in cooperation with the Warsaw Stock Exchange and is based on the WSE CEEplus index;
work was in progress under the initiative to build and implement a comprehensive business process administering the overall investment process. The launch of the new system is slated to transpire at the turn of Q2 and Q3 2020;
work was continued to implement a single integrated finance and accounting system to administer valuations and record investments in PZU, PZU Życie and TFI PZU. This solution will make it possible to augment effectiveness and optimize operations in the back-office (for instance to meet the requirements of the Solvency II Directive.) System implementation is slated for 2020.
#9 Implementation of a new "moje.pzu.pl" portal
Initiative: integrate the digital services surrounding the PZU Group's processes. The largest project under this initiative is the mojePZU ("my.pzu.pl") portal.
Purpose:
gather in a single place client information translating into loyalty and more transactions;
provide clients with a functional dashboard enabling them to check their insurance and health coverage at any time (book appointments, too) and manage their investments and, in the future, banking services as well.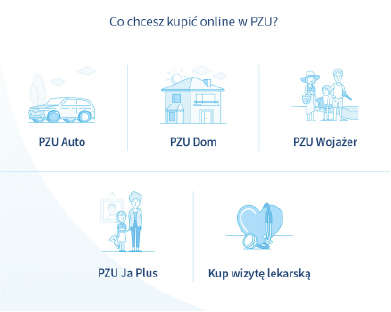 Metric: number of accounts opened by clients (5 million accounts).
Execution:
more functionalities were added to the moje.pzu.pl portal for clients in 2019; this portal brings together the PZU Group's services in one place and allows clients to manage their insurance cover and their health cover, among other things (e.g. book doctor's appointments, order dedicated medical services) purchase policies and invest through the inPZU investment platform. Launching the mojePZU portal was one of the largest IT projects in PZU. Promotional activities to expand awareness on using this platform for product administration are planned in 2020. This platform is also available to mobile clients. The mojePZU portal was victorious in the prestigious international contest organized by Efma & Accenture Insurance Awards 2019 in the Core Insurance Transformation category.
#10 Development of direct offering
Initiative: Develop the best sales site in the online channel among European insurers.
Purpose:
design an offer of 10 products based on simple and understandable rules;
reach clients who prefer digital channels;
build a leadership position in the direct channel with a market share of at least 50%.
Reaching clients who prefer digital channel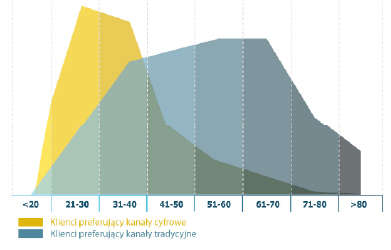 Metric: number of products available in the direct channel (internet and telephone); market share held by PZU and Link4 of non-life insurance sold in the direct channel (50%).
Number of products in the direct channel
Execution:
the direct offer was expanded to include more products in 2019. The sales of the Education product were launched (in the contact center channel) and the underlying assumptions for making more products available for online sales were updated.
#11 Loyalty program
Initiative: launch a loyalty program for the overall Group spanning all its products. The points collected by using these services as well as other activities (among others having a claim-free history and referring the program to a friend) may be converted into products and services from our partners.
Purpose:
grow the number of client interactions;
expand the range and reach new target client groups (solicit young clients too) and align the offer better;
segment clients and personalize the offering;
support the development of all of the lines of business;
engage club members to act to benefit the local communities in which they live.
Metric: number of participants in the loyalty program.
Number of participants in the loyalty program
Execution:
enhancing the PZU Club concept – new space for client contacts. The idea is to foster more frequent client interaction by extending the offer of regular benefits in the following categories: sport, health and safety. Prizes for various types of activities (such as customer referrals, etc.) are one idea on how to win customer trust. Marketing consents secured from club members support a customized approach to communication and ramp up the quantum of transactions (increasing the number of products per client and cross-sell).
#12 Integrated service model for SMEs
Initiative: integrate sales models in the Small and Medium Enterprise (SME) segment.
Purpose:
ramp up the sales of group and property insurance to the small and medium enterprise (SME) segment;
reorganize and unify the sales and service model, develop a multi-agency channel;
create dedicated product offerings for the SME segment.
Metric:
pace of new sales of group insurance to SME clients in PZU Życie (70% up to 2020 - versus 2016), pace of growth of
gross written premium
on property insurance dedicated to the SME segment (20% up to 2020 – versus 2016).
Integrated service model for SMEs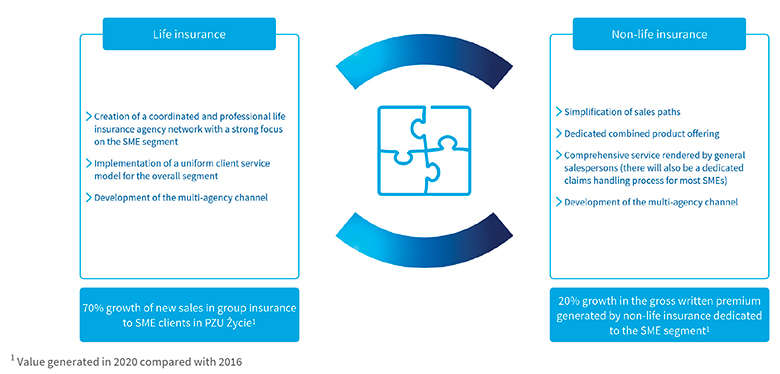 Execution:
an important stage in the transformation of the agency network structure in PZU Życie was wrapped up in 2019. As a result, the network's reach was extended by hiring 500 new salespersons, new acquisition rules and a new structure in the Head Office were introduced, and the field structure was adjusted. New compensation rules for agents and advisors were also introduced for work done in the SME group portfolio. These changes will deliver measurable benefits to the PZU Group. Actions are currently being taken to define the directions for further network development.
Gross written premium growth in non-life insurance in the SME segment